This list relates to the year 2017/2018 which ended on 31/08/2018
This list has been archived
The entries on this reading list often give several sources for background on a particular topic - this is to give you choice, and not a suggestion that you need to read all of them.

Principles and philosophy of science

10 items

The big questions of what science and research are, and how they relate to wider society.

Environmental chemistry

1 item

Book and eBook supporting the water analysis work within the module.

Scientific methods

7 items

Material on the practicalities of designing good scientific research.

Sampling and Data Interpretation

4 items

Data Presentation

6 items

Specific considerations for carrying out questionnaire and interview based research

Research ethics and risk assessment

7 items

Ethics in research involves the principle of causing no harm to the people, organisms or places you are studying, or to others who might be affected by your research, whether deliberately or by accident.

Webpage **re-check, site down 22/8/16**

Maps and mapping

10 items

Background information on scale, projection and other foundation concepts

Cartographic Theory and Principles - Catherine (Kate) Emma Jones

Chapter Further Reading Basic cartographic principles including visual variables, visual hierarchy. **Note that the figures in the chapter are in black and white - there is a separate ebook entry for the colour plates. The book is also available as a paper copy in the library at G70.212 HAK **

Foundations of Geographic Information Systems

4 items

Basic GIS concepts over and beyond those of mapping in general. It is recommended that you read at least one of the introductory chapters below.

GIS application case studies

7 items

From GIS intro lecture - optional reading if you want to understand more about how GIS is used to answer questions.

Writing Research Reports

13 items

This section includes material on essay writing as it is relevant to the overall tone and writing style of a report, and especially to the more discursive sections - the literature review and the discussion of the results.

Active vs. Passive Voice in Scientific Writing

Document American Chemical Society webinar (PDF of slides). Start from page 6 to avoid the preamble. Good clear advice and exploration of the pros and cons of both active and passive voice.
Creative Commons Attribution-NonCommercial-NoDerivs 3.0 Licence
Profile Required
Reading intentions and notes are stored against your user profile. Please create a profile to use this feature.
My notes
You must be logged in to add a note
What are item notes?
You can use item notes to make personal notes on any of your reading items. Notes are private to you and will not be shown to other users.
You can review your item notes from the list, the item page or from your profile page.
---
How do I create an item note?
To make notes, first you must be logged in. Once logged in, simply click Add note? next to the list item you wish to make notes on. You can also make notes at the bottom of every item's detail page.
Your note will be saved automatically as you type.
Have you read this?
You must be logged in to set a reading intention
What are reading intentions?
Setting up reading intentions help you organise your course reading. It makes it easy to scan through your lists and keep track of progress. Here's an example of what they look like: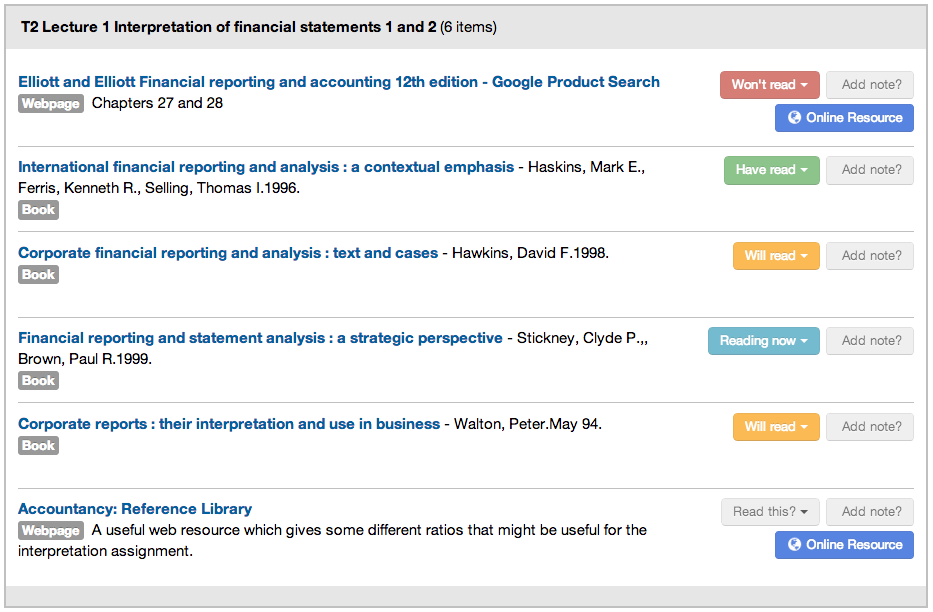 Your reading intentions are also stored in your profile for future reference.
---
How do I set a reading intention
To set a reading intention, first you must be logged in. Once logged in, click Read this? next to the list item you wish to set a reading intention for.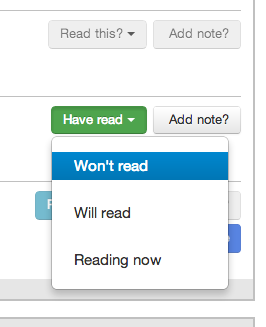 You can also set the reading intention from every item's detail page.