Neonatal high dependency care
2019/2020
This list relates to the year 2019/2020 which does not start until 01/09/2019
Books and core reading

37 items

Book Core Reading Core text

State of Child Health report 2017 | RCPCH

Webpage Core Reading Core information published by the Royal College of Paediatrics and Child Health (2017) highlighting issues with children's health in the UK today. Includes some interesting findings on smoking in pregnancy, breastfeeding and infant mortality which are of particular value to the neonatal course.

Core reading embryology, anatomy, physiology and pathophysiology

3 items

Key underpinning knowledge for all nursing care.

prematurity, family support, palliative and end of life care

7 items

Legal, ethical and professional

8 items

Additional reading

11 items

Neonatal cardiology - Michael Artman, Lynn Mahony, David F. Teitel 20170071834508,9780071834506

Book Further Reading

Journal Useful journal articles even though this is not an advanced practitioner course

Specific evidence based articles

10 items

This section includes a selection of evidenced based articles to support learning of essential topic areas. Please note a brief selection of articles have been chosen to represent some of the topics and the level of evidence base required for the course. This does not replace the literature reviews required for your assignments.
Creative Commons Attribution-NonCommercial-NoDerivs 3.0 Licence
Profile Required
Reading intentions and notes are stored against your user profile. Please create a profile to use this feature.
My notes
You must be logged in to add a note
What are item notes?
You can use item notes to make personal notes on any of your reading items. Notes are private to you and will not be shown to other users.
You can review your item notes from the list, the item page or from your profile page.
---
How do I create an item note?
To make notes, first you must be logged in. Once logged in, simply click Add note? next to the list item you wish to make notes on. You can also make notes at the bottom of every item's detail page.
Your note will be saved automatically as you type.
Have you read this?
You must be logged in to set a reading intention
What are reading intentions?
Setting up reading intentions help you organise your course reading. It makes it easy to scan through your lists and keep track of progress. Here's an example of what they look like: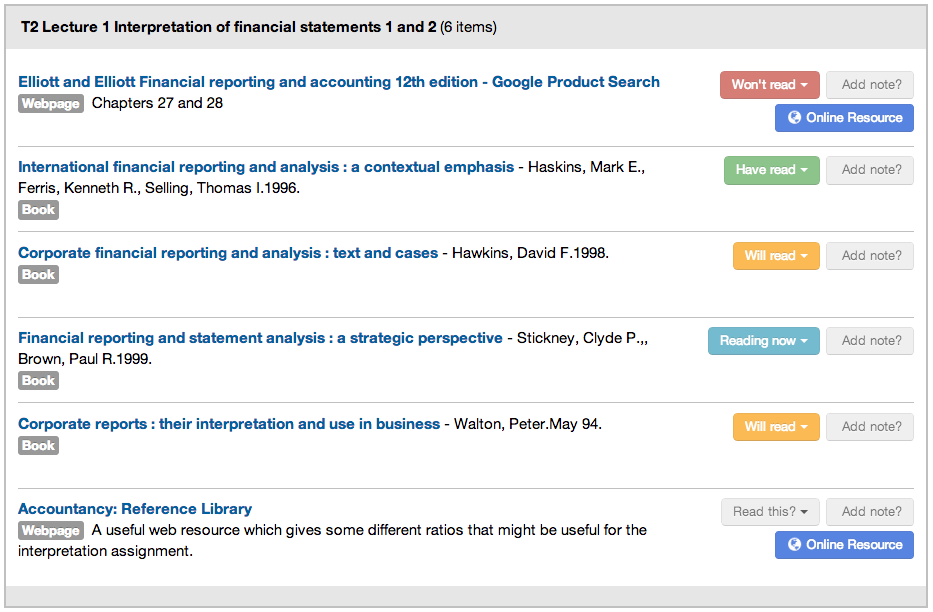 Your reading intentions are also stored in your profile for future reference.
---
How do I set a reading intention
To set a reading intention, first you must be logged in. Once logged in, click Read this? next to the list item you wish to set a reading intention for.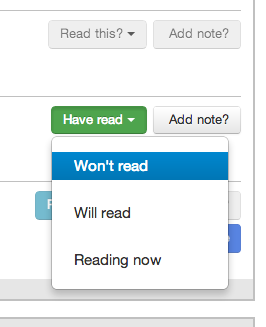 You can also set the reading intention from every item's detail page.