Film And TV Business in the digital age
2019/2020
This list relates to the year 2019/2020 which does not start until 01/09/2019
Film Business Key Texts - compulsory

9 items

Film Marketing Key Texts - compulsory

6 items

Webpage Core Reading Vital website for research into similar films and their releases and marketing

Film marketing - Finola Kerrigan 2017 (electronic resource)

Book Core Reading Vital for "Plan a film project assignment"

Film Further Reading

16 items

The movie business book 20171138656291,9781138656291

Book Further Reading Jason Squire's introduction to the film industry, with an American bias

The cultural industries - David Hesmondhalgh 20131446209261,9781446209264

Book Further Reading especially Introduction pp.1-34, and chapter 6: Ownership structure and size, pp. 185-227.

Managing media companies: harnessing creative values - Annet Aris, Jacques Bughin 2009047071395X,9780470713952

Book Further Reading More on media business strategy and vertical integration as a whole than film specifically. Case studies are very out of date and little mention of Netflix but principles are good.

Television business and TV scriptwriting

1 item

Learning how to develop stories and pitch ideas

10 items

You only need one or two books from this list. Start with Blake Snyder and Linda Aronson

TV Factual Ideas: Optional Further Reading

5 items

This is not an assessed part of the course but we will sometimes talk about factual entertainment TV ideas. If you would like to read further around creating and pitching TV factual entertainment formats, or you would like to work in this field in the future, then you may want to read the following books:
Creative Commons Attribution-NonCommercial-NoDerivs 3.0 Licence
Profile Required
Reading intentions and notes are stored against your user profile. Please create a profile to use this feature.
My notes
You must be logged in to add a note
What are item notes?
You can use item notes to make personal notes on any of your reading items. Notes are private to you and will not be shown to other users.
You can review your item notes from the list, the item page or from your profile page.
---
How do I create an item note?
To make notes, first you must be logged in. Once logged in, simply click Add note? next to the list item you wish to make notes on. You can also make notes at the bottom of every item's detail page.
Your note will be saved automatically as you type.
Have you read this?
You must be logged in to set a reading intention
What are reading intentions?
Setting up reading intentions help you organise your course reading. It makes it easy to scan through your lists and keep track of progress. Here's an example of what they look like: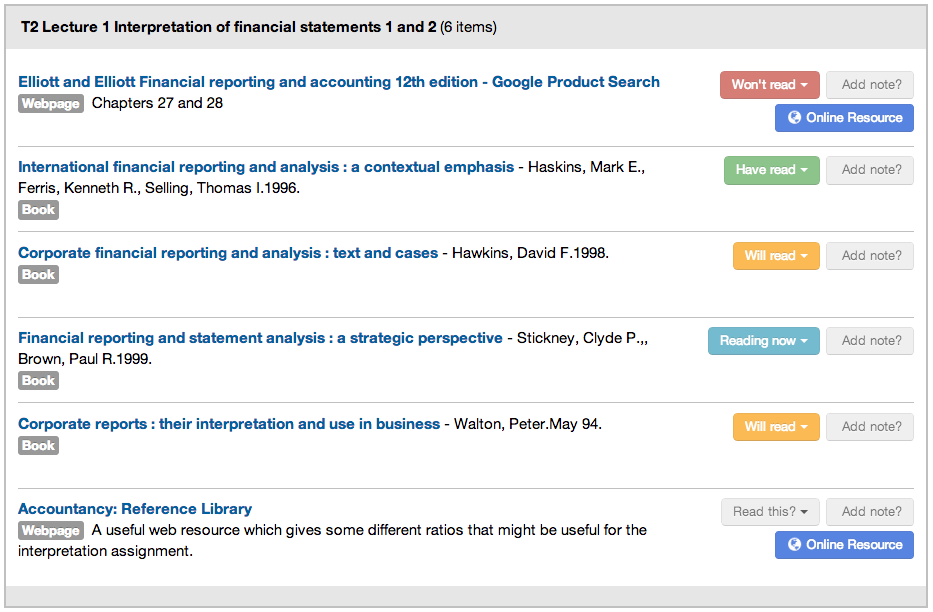 Your reading intentions are also stored in your profile for future reference.
---
How do I set a reading intention
To set a reading intention, first you must be logged in. Once logged in, click Read this? next to the list item you wish to set a reading intention for.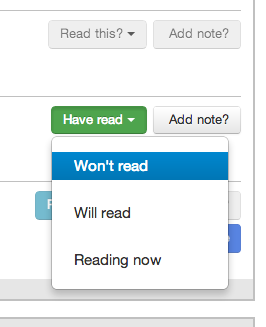 You can also set the reading intention from every item's detail page.